Dental Implants – Wilmington, VT
Replace Your Missing Teeth for Good
Dentures and dental bridges still have their uses, but dental implants are by far the most advanced option for tooth replacement available. Not only do they replace the whole smile, but they can also last a lifetime. With Dr. Ruhl's expertise and the cutting-edge equipment at Deerfield Valley Dental Care, you don't have to hunt down a specialist for dental implant placement; you can simply turn to your regular dental team! Call us today to learn more about the implant process.
Why Choose Deerfield Valley Dental Care for Dental Implants?
Implant Placement In-House
Cutting-Edge Technology
Long-Lasting, Durable Restorations
What are Dental Implants?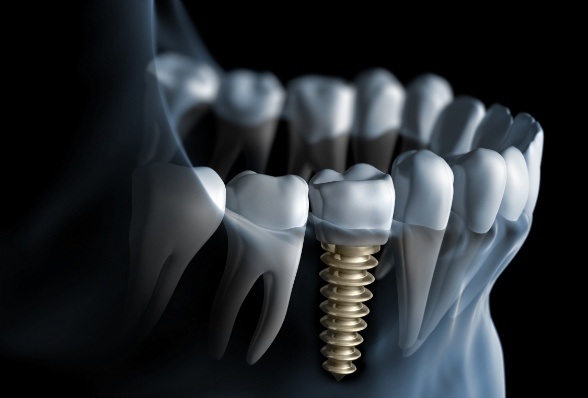 It'd be more accurate to call dental implants replacement tooth roots instead of actual replacement teeth. They're there to provide support for a crown, bridge, or dentures. The implant post is shaped like a screw and will normally be made out of titanium, which can fuse with the jawbone in a process called osseointegration. Thanks to the stability they provide, dental implants have set a new standard for tooth replacement and are considered the ideal choice for long-term oral health.
The 4 Step Dental Implant Process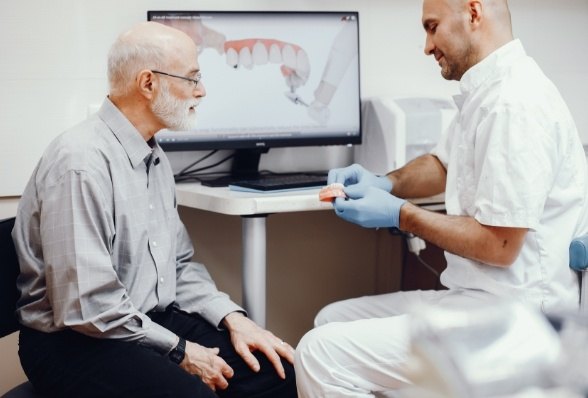 Step 1: You set up a dental implant consultation with Dr. Ruhl. He'll make sure your jawbone and gums are healthy enough for implants. Preparatory treatments may be scheduled as necessary.
Step 2: Surgery is performed to place the implants in your jaw. Your mouth will be numbed so that you experience no discomfort during the procedure.
Step 3: Osseointegration takes place over several months. After it's complete, we will attach a small piece called an abutment to the post.
Step 4: You can return to our office for your final crown, bridge, or denture to be placed on the implant(s) once the mouth has fully healed.
Benefits of Dental Implants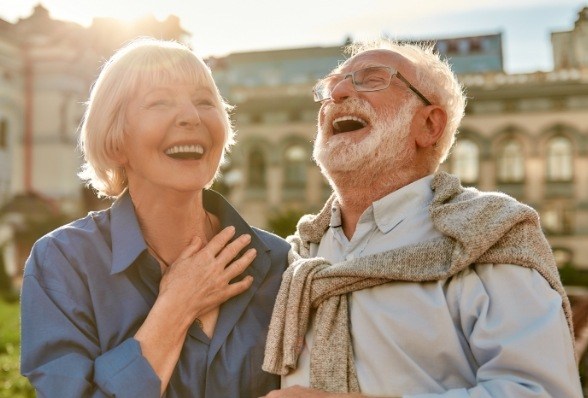 You'll be more confident in your newly recompleted smile.
You never have to deal with dentures that slip or fall out at awkward times.
You can enjoy many denser, harder foods that would be difficult to chew with the limited bite force and stability of traditional dentures.
Implants that have joined with the jawbone feel like a natural part of the mouth.
The stimulation from implants help keep the jawbone from deteriorating.
Implants have a success rate of 90% to 95% after 10 years.
Who Dental Implants Can Help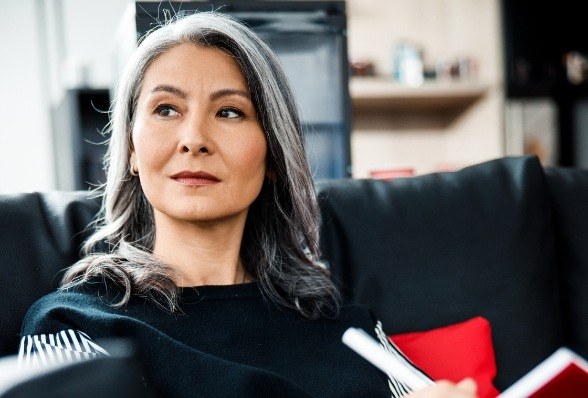 There is no limit to the number of teeth that can be replaced with implants, making them a good choice for virtually anyone who has a few gaps or even an entire arch to fill in. Periodontal therapy, bone grafts, tooth extractions, and other procedures might need to be performed first so that the implants can be placed successfully with as few risks as possible. The type of implant you receive will depend on the extent of your tooth loss.
Missing One Tooth

The standard implant procedure for replacing a single tooth is to place one implant into the socket in question. A crown will be placed on top of the post once your mouth is ready. Don't worry about people staring at your new tooth; the crown will be shaded and shaped to look like a natural part of the mouth.
Missing Multiple Teeth

Bridges can be supported by a pair of dental implants when three or more teeth are missing. Since the crowns at either end of the bridge will be anchored to implants instead of natural teeth, there is no need to remove small amounts of enamel. We can also use a couple of implants to support partial dentures if there are teeth missing throughout your mouth.
Missing All of Your Teeth

It only takes a small number of implants to support a full denture – likely four to six. Implant dentures are different from traditional dentures in that you don't have to take them out in order to clean them; they can just be brushed normally like real teeth. They will also never move around while chewing or speaking.
Understanding the Cost of Dental Implants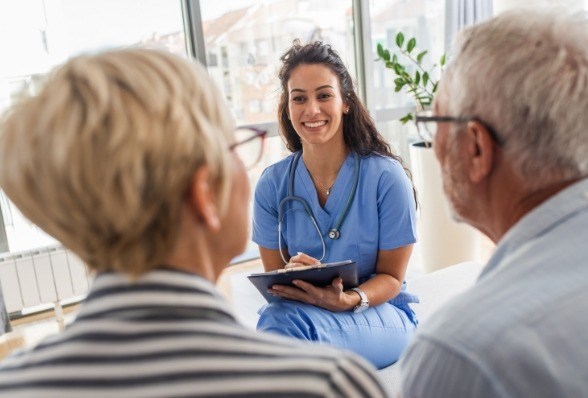 As a side effect of the highly customizable nature of the dental implant process, the overall cost of treatment can vary wildly. Before starting the process, we'll carefully go over the factors that will impact the final price (such as the number of implants required, the type of restoration needed, and additional preparatory steps). While implants have a higher initial cost than other treatments, they also don't have to be replaced as often and protect your overall oral health, thus potentially helping you save money in numerous ways.